Aug 10, 2020
Learn how to hear, understand and honor those
who are different from us
I had the wonderful opportunity to meet Gail Hayes through Peter Winick's group of thought leaders. Gail was as curious about thought leadership as I was. What we found and then wanted to share with our listeners is how innovative thinking is essential in today's fast-changing, totally disrupted world. You'll hear how Gail found herself a single mom raising two children without much of a job. Yet, she rethought herself, turned those proverbial "lemons into lemonade" and discovered a new "Gail," offering exceptional programs for people of all races and perspectives. Her role is to help you see things through a fresh lens — just as we at SAMC do. Take a listen!
Wisdom for our times from Gail
Need a lift? Then help someone stand. Need inspiration? Then encourage someone who is down. Need kindness? Then expend grace. It's your choice. You receive in abundance what you give in abundance!
Some of the important truths we talked about
Blackness and whiteness and how we can learn to love each other and live together
Toilet paper levels the playing field
How we need to honor the experiences and viewpoints of those different from us
Empowering women to become the women they want to be
How to take adversity and turn it into an opportunity
To watch our interview click on the image below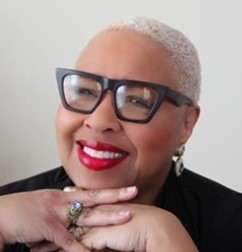 About Dr. Gail Hayes
An internationally recognized communicator and thought leader, Dr. Gail Hayes ignites every environment with contagious enthusiasm and a passion for purpose. An Executive Leadership Coach, media personality and award-winning author of numerous books, Gail has lived multiple years in Asia and Europe, enabling her to communicate fluidly and effectively across cultural lines. In addition, she founded and served as the Director of the European Executive Women's Forum, the first active European Network of the National Association for Female Executives (NAFE).

Not only was Dr. Gail the first African American female law enforcement officer and firefighter in Chapel Hill, NC, she also served as the first African American Chair of the Orange County Commission for Women. She has worked on Capitol Hill for the National Governors Association, receiving the Outstanding Leadership in State Government award. Dr. Gail is currently CEO of the Handle Your Business Girl Empowerment Zone.
Dr. Gail has authored numerous books including:


You can reach Gail at Twitter or LinkedIn or email her here.
Want more stories of resilience and rising above difficulties? Here are three
Additional resources