Dec 2, 2019
Learn how to overcome discriminatory gender bias!
As you may know, I am researching my next book about women and how they are smashing the myths of what they can or cannot do in this world. I was therefore thrilled to have the opportunity to interview Andrea (Andie) Kramer and her husband Al Harris about their new book, "It's Not You, It's the Workplace." Our conversation digs into those lingering myths about women's workplace relationships. Why, you might wonder, are these relationships so difficult, in which women think other women are just plain mean to each other, don't help other women succeed, and are more challenging to work for than men. Well, that is all myth. Listen in and learn why.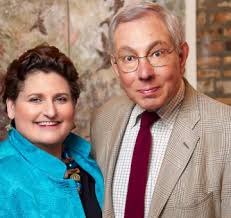 In our interview, Andie and Al talk at length about their detailed social science research consisting of surveys and hundreds of interviews with women and men across the country. Surprisingly, what they found is that women's unique conflicts with others, both women and men, are not caused by gender or different styles or the way they were raised and socialized. Rather, it is the result of pervasive gender bias in their workplaces. Women are not inherently mean to or competitive with other women. Rather, the existing gender stereotypes and biases force women into situations where conflicts with other women become almost inevitable. But it doesn't have to be that way—workplace cultures can change!
Is there gender bias in your organization? Does your culture need to change? Listen in as Andie and Al explain how to change your policies to effectively address bias so that everyone, no matter the gender, can thrive.
More about Andie and Al
Andie Kramer and Al Harris are married practicing lawyers who have been mentoring women and speaking and writing about gender communication for more than 30 years. Andie and Al offer women unique, balanced and highly practical advice they can use to prevent gender biases from slowing or derailing their careers.
Andie and Al also offer arresting information and compelling examples to male audiences to make them aware of and sensitive to the gender biases that hold women back—even in the most well-intentioned organizations. They provide business and professional organizations with concrete suggestions for workplace changes that will make women's career opportunities more closely equal those of men.
Co-authors of the popular book, "Breaking Through Bias: Communication Techniques for Women to Succeed at Work," Andie and Al are frequent keynote speakers and conduct workshops for all types of organizations to better understand the world of gender bias.
What you will learn in this podcast:
How do you say "no" in a way that doesn't hurt relationships

The impropriety bias: Can a man still mentor a woman?

Why changing policies more effectively addresses bias than changing an individual

Gender bias in the 2016 and 2018 election cycles

10 tips for women to avoid or overcome discriminatory gender biases

Breaking down gender stereotypes for healthier professional relationships

What men and organizations can do to eliminate the discriminatory effects of gender bias

Ensuring that your organization is harassment-free in the #metoo era

Misperceptions of how women work with women
Want to know more on this subject? Check out these blogs and podcasts:
Additional resources