Oct 19, 2020
Hear why anthropology should be part of your business plan!
It was an honor to speak with Simon Roberts on our On the Brink with Andi Simon podcast. Simon is a highly regarded business anthropologist with his firm Stripe Partners, serving clients across the globe with effective, innovative ethnographic and anthropological research. I am also a business (or corporate) anthropologist, and as we talked about both of our journeys, we realized how important it is for organizations of all sizes to understand how to step back and see themselves through a fresh lens — an anthropological one. Need a fresh insight? Do listen in.
You will only know what you don't know if you open your mind to what could be and let your experiences show you what is
During our discussion, Simon and I delved into his own journey both inside corporations, such as Intel, and as an entrepreneur setting up his own business. His career began with a PhD in anthropology focused on the satellite TV revolution in India in the mid-90s. He then started the UK's first dedicated ethnographic research company, Ideas Bazaar, before leading an R&D team at Intel's Digital Health Group. In 2013, he co-founded Stripe Partners, a strategy and innovation consultancy which supports teams working on near-term product launches and longer-range strategy engagements.
We laughed at how he was able to see things in ways that his clients were blocking, taking one client out camping because he wanted to expand into the camping industry. Or another who wanted to understand how broadband wireless could improve people's lives by making it easier to get things they needed.
From Simon's own observations, he has learned how our brains hate to see new things. He has also observed how our body and brain are so closely interwoven, but we don't think of them as one being.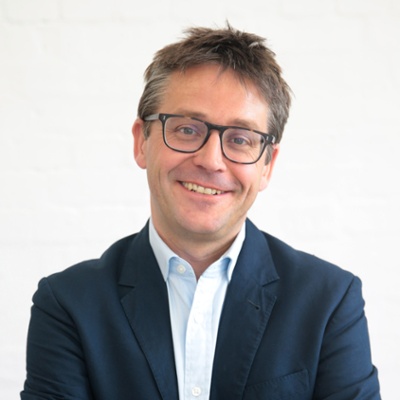 About Simon Roberts
Simon's expertise lies in deeply understanding both people and emerging technologies. His consulting experience centers on product, business and platform strategy in consumer and business contexts. His work has been recognized by Bloomberg, The Financial Times, The Wall Street Journal, BBC Radio 4 and Quartz. His new book, "The Power of Not Thinking: How Our Bodies Learn and Why We Should Trust Them," is out now.
You can learn more about Simon on his website, Stripe Partners, and you can contact him at simon.roberts@stripepartners.com.
For more on how corporate anthropology can help your business, check these out
Additional resources